On Making an Argument
Almost any traditional form of Christianity (whether Roman Catholic, Orthodox, Calvinist, Mormon, or whatever) can mount a very deadly attack on… 'the other guy'.

In other words; once you have accepted a coherent set of theological premises; you can use these as an effective basis to attack any other religion, denomination – or no religion.

So long as you stick to your own premises, and refuse to acknowledge these premises as being metaphysical assumptions that you-yourself have chosen to adopt — you can easily impress yourselfat the rigour and vigour of your own deadly dialectic!

You can even convince yourself that effective argument from your chosen-but-denied-assumed premises is a validation of these premises; meaning they must be true (i.e. necessarily true for all Men, at all times and places).

You can impress and convince yourself, perhaps; but it does not impress other people; because they do not share your chosen-premises, and they can see your baseline assumptions for what they are.

So, this kind of Trad Christian may be smug and confident; but to anyone else outside the assumptions he will appear a deluded fanatic: someone who attacks all the time because he must; and he must always attack because has no effective defence. 

— Bruce G. Charlton, "'Trad' Christians"
One of my skills is being able to clearly see the axioms—underlying baseline metaphysical assumptions—that people do not know, or admit, they hold. This isn't especially difficult, but it is fairly uncommon. In the case of proponents of Christian Patriarchy, I understand their axiom…
This is the explicit view of Christian Patriarchy expressed many times on this forum: that Christian complementarians, egalitarians, and feminists do not read the Bible for what it clearly says in plain language, but is in fact rebellion to the Word of God. — comment on "Men's Altruistic Idealism in an Age of Apostasy", Sigma Frame blog.
…which can be best reformulated as follows:
Claim A: My interpretation of scripture is clear and if you think it means something else, you are rebelling against the Word of God.
Some variation on this belief is common. The general claim is that "Complementarians, Egalitarians, and Feminists read the Bible and twist what scripture is plainly teaching in order to avoid its obvious conclusion, whether it be Paul's obvious commands that women are to be silent, wear veils, ask their husbands on spiritual matters, submit in everything, etc. Rejecting Christian Patriarchy is deferring to femcentrism instead of God's Word."
So, say I have some claim A—like that above—that I want to disprove. One standard method of deductive proof is to start by accepting A, and then reasoning logically and deductively until you reach the conclusion ¬A. If you show that…
A → ¬A
…, you have a logical contradiction, which disproves the original claim A.
The best chance to refute a fanatic's axiom is to show that it leads to logical flaws, that is, is an incoherent theological belief system.
To use this method, I must accepting the claim as if it were true. This is precisely what I did in the thread (and many others like it): I assumed that the interpretation of scripture can be clear and plain and that rejecting the clear and plain meaning for a more complex or nuanced explanation is rebellion against the Word of God, even though I don't believe this personally. I did so because they believe this.
Readers then notice me making Claim A and accuse me of believing that A is true. This is, of course, correct: I start by assuming A—their own axiomatic belief—is true! But they can not see the trap that they have set for themselves even as they demonstrat the contradiction.
I can't tell you how many times in various ways that I have been told that Christian Patriarchy is plainly, obviously, and overwhelmingly stated throughout scripture and history and that my own views are twisted sophistry or worse, proof of ignorance. Or, as Charlton put it, their views are "necessarily true for all Men, at all times and places." After I wrote this…
"[Claim A] is the explicit view of Christian Patriarchy expressed many times on this forum: that Christian complementarians, egalitarians, and feminists do not read the Bible for what it clearly says in plain language, but is in fact rebellion to the Word of God."
…Jack, owner of the blog, responded with:
It's tragic to see RamMan commit a category error (assuming Christian Patriarchy is the same as Christian complementarians, egalitarians, and feminists) and thereby destroy the good faith of his argument.
I invite anyone to accept the claims I present as if they are true and use reason to determine if those claims hold up. This is a good faith argument that cannot be destroyed by personal attacks, contempt, distraction, or projection. Indeed, this is how people have—in the past—convinced me of my own error. But when someone treats their preferred exegetical method as exclusively available to them and excludes others from its use, they typify the bad faith argument.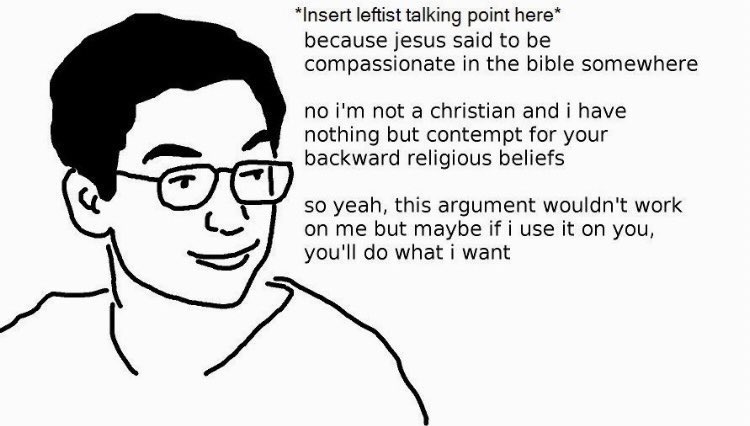 See, I never said that Christian Patriarchy, Complementarian, Egalitarian, and Feminist groups were the same, for that would be stupid and absurd: they plainly hold differing and conflicting beliefs, as evidenced by my pointing out in that very comment that they each think their many of their own interpretations are exclusively correct, often obviously so. And so, I said that, paraphrasing, "the Christian Patriarchy group assumes that their viewpoints reflect the plain language of the Bible and that Bible interpretations by the other groups represent a rebellion against God, a willful failure to accept what is plainly true."
So how did Jack respond? He said that his group is right and the other groups are wrong: his group is in a different category from everyone else. He couldn't have proven my point any better. Proponents of Christian Patriarchy really do think that their interpretations of scripture are in a completely different category from the interpretations of scripture made by Complementarians, Egalitarians, and feminists. You can freely criticize the latter, but if you question the former, you rebel against God himself.
I reasoned from their own viewpoint to a contradiction of Claim A. They saw that "my" argument failed. They failed to see that this actually disproved their viewpoint, complaining instead about the way I argued. They failed to see that their own exegetical methods are no better than the people they deride. Instead, they demonstrated how not to argue.
How Not to Argue
One frustrated commenter said:
"Why are you going there with him Oscar? He told you, he's not making an argument, but thinks he's only playing the non-involved role of repeating scriptures, like a Bible app. That means, in his mind, your arguing makes as much sense as it does to argue with Bible Hub."
My argument required accepting the false premise as if it was true and then reasoning to a contradiction. To do this, I had to cite the very scriptures that they claim are the authoritative, infallible, and inerrant Word of God. There was no room for my own opinion. They were not arguing with me, for my opinions were nowhere to be found. Rather, they were indeed arguing—ineffectually—against the Word of God. In doing so, they effectively disproved their own argument. But all they could do is complain about my method:
"he must always attack because has no effective defence" — Charlton
The commenter continued:
We all come here to share our viewpoints to grow, but there is only one person who thinks he is only being shaped by a clinical adherence to what the word says. I think this is the source of a lot of the extreme difficulty people have communicating with Derek.
One cannot grow if one cannot reason through an argument that disproves those viewpoints. A good argument must resist the urge to bring up irrelevant points—such as my own opinions—that would distract from the very real challenge to their own views that my argument presented. In a way, I am being clinical. Logic—pointing to the truth—has no room for emotion, which can only distract and deflect. I refuse to make an argument that includes irrelevant details.
The commenter continued:
He implies the rest of us don't read the Bible for what it says, but he does, and even to the point, it's not his argument when you disagree with him.
First, Claim A is not my claim. If only they could see that they are projecting their own failings onto me, then they could begin to find the truth by rejecting the failing they think they see in me. I'm merely a mirror. They only believe that the Bible is the Word of God when they cite and interpret it, but not when I do. When I cite and interpret the Bible, it is just a machine spitting out a bunch of meaningless combinations of words in a misused or nonsensical manner. They never stop to think if this applies to them.
Second, I thus agree with the commenter that ¬A is true and that therefore, by logical contradiction, A is indeed false. Because A is false, all those dependent claims to interpretative and theological superiority by the Christian Patriarchy are also false.
Third, nobody owns an argument. Arguments stand and fall on their own merits. If you disagree with the argument, you are never disagreeing with the person who made it. If you find yourself disagreeing with the person and not their argument, then you've shown quite clearly that you are not there to grow your viewpoints, but to be contentious for no gain. Trying to discredit the person arguing—often by ad hominem—is never valid.
Axioms of Belief
I originally wrote "Axioms of Faith" in response to a very similar problem where a different commenter took issue with my application of logic and reason. I retorted that the commenter was placing an authority over the authority of scripture, as, you'll note, I also did above in this very article.
The commenter did not want to accept my argument, so I exposed their underlying axiom of belief. As above, Jack took issue to this approach and said:
"You're overreaching your assumptions here."
But I was not overreaching, and I explained why.
It is extremely uncomfortable for a person to have their personal axioms challenged. Doing so is likely to get a person personally attacked. People are much happier when you challenge views on the periphery of their beliefs, because at the end of the day they can just fall back on their axioms. A challenge to their core—such as adherence to Roman Catholicism—will be taken as a personal attack, even though it isn't one. This is why Sigma Frame has a comment policy that encourages censorship for "Vehemently attacking religious faiths, of any variety."
Challenging axioms is generally off-limits, but it is what I do. Recall from "Axioms of Faith" the response of Jack to my "attack":
Meanwhile, we do have some readers here who are going through literal hell at this exact moment. Do you have any good word for these men?
I'll say again what I've said in the past in various forms: you can't help someone out of their errors until you've first dismantled their false axioms of belief. Trying to fix their peripheral beliefs will be of minimal benefit. This is why I spent so much time criticizing the Roman Catholic sacraments on that and this blogs. The acceptance of false axioms completely invalidates the good work they are trying to do for suffering men.
They must first lead Roman Catholics to faith and only then can they help them in their relationships. For nearly 400 years after the cross of Christ, non-Christians were forbidden from taking part in the ministry of Christ. They could not even tithe. The early church understood, as we no longer do, that one's axiom must be Christ before any good can be done.
Throwing down bad axioms is hard.
Logical Fallacies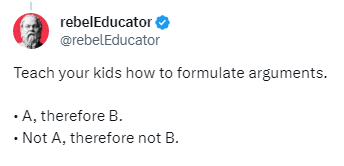 Throughout the last few blog posts, I have been responded to various claims by Sharkly, which includes a lengthy back and forth discussion at the Spawny's Space blog. At one point during the discussion there, Sharkly asserted a claim:
X → Y
But I had noticed that elsewhere he had made the claim…
Y → X (converse)
…and…
¬X → ¬Y (inverse)
In doing so, Sharkly had committed, among other things, the fallacy of the inverse. This made his argument logically invalid, full stop. If he then takes that invalid argument and uses X to show Y while also using Y to show X, this is circular reasoning. Asserting a proposition and its converse is a fallacy, as Sharkly clearly did. Sharkly's argument became circular when he had tried to use both X and Y to prove Y and X (respectively). That he did this on separate occasions and in separate places does not change the fact of it being circular. Nor did he deny that he made those claims, he merely denied that he made the claims together in a single argument, which doesn't eliminate the circularity of his belief.
So, Sharkly had three rational choices: fix his line of reasoning, abandon his line of reasoning, or abandon one of his conclusions. He chose to double down instead:
The truth usually comes full circle. [..] Just because two statements together can be labeled as circular, does not make a logical fallacy, if you're not trying to use them both to prove each other. [..] The truth just works in both directions on that.
But the point here is that Sharkly, when faced with this, agreed that his view was circular, but denied that it was fallacious. This is known as special pleading, an informal fallacy also known as a double-standard. For those paying close attention, the reason his Sharkly belief isn't a formal fallacy per se is because he is declaring his beliefs to be axiomatic. An axiom is a type of circular reasoning—like a definition or tautology—that isn't considered fallacious per se, because it is only used as a proof-less given in an argument: it is a self-evident claim that isn't subject to debate. Sharkly's holds his views about God, men, and women axiomatically, that is without rational proof or rational argument. He just wants everyone to agree with him.
"You can impress and convince yourself, perhaps; but it does not impress other people; because they do not share your chosen-premises, and they can see your baseline assumptions for what they are." — Charlton
How can one ever hope to win an argument when the people you are arguing with don't accept that the laws of logic apply to themselves? It is impossible. When an axiom is a matter of blind faith, they are nearly impossible to throw down.
Now, recall up above how I disprove an argument by accepting its core claim and that this leads people to argue against my argument not realizing they are arguing against their own core claim? The same thing happened with Sharkly. He made this statement…
The matchless image of God clearly makes men the superior vessel.
…to which I responded…
The matchless image of God clearly makes humanity the superior vessel.
…and noted that he was using circular reasoning (which is based on his axiom regarding the meaning of the Hebrew word 'adam). He responded by saying…
LOL By your own style of assessment that then makes your above declaration circular reasoning.
…which is, of course, absolutely correct. By assuming his axiom, I made an argument that was as equally circular as his argument: both of us had assumed the conclusion of what we were arguing in order to prove that conclusion to each other. By arguing against my argument, he was arguing against his own argument and the axiom upon which it is based.
I believe he thought I was being dishonest or cheating or playing word games or something similar. The reality is that I had disproved his argument using his own argument against him. He refused to accept the correction, because he appears to hold his views axiomatically: on faith. It's hard to dislodge blind faith. I know that he values truth, but many other people belief is even more important than truth, which is why disproving arguments is so hard.
And in case you think I'm arguing in bad faith when I wrote about the Patriarchal Axiom…
Claim A: My interpretation of scripture is clear and if you think it means something else, you are rebelling against the Word of God.
…all you need to do is read what Sharkly just said:
"You rebel against the truth. You prefer the new lie."
I rest my case.